No-Bake Pumpkin Cheesecake has a rich, velvety filling flavored with pumpkin spice over a buttery crust. Refrigerate overnight and serve chilled.
This No-Bake Cheesecake Recipe is the perfect one Dessert to earn in the fall. It has the same rich taste as Classic pumpkin cheesecake, but it does not require oven time, a water bath or any complicated instructions!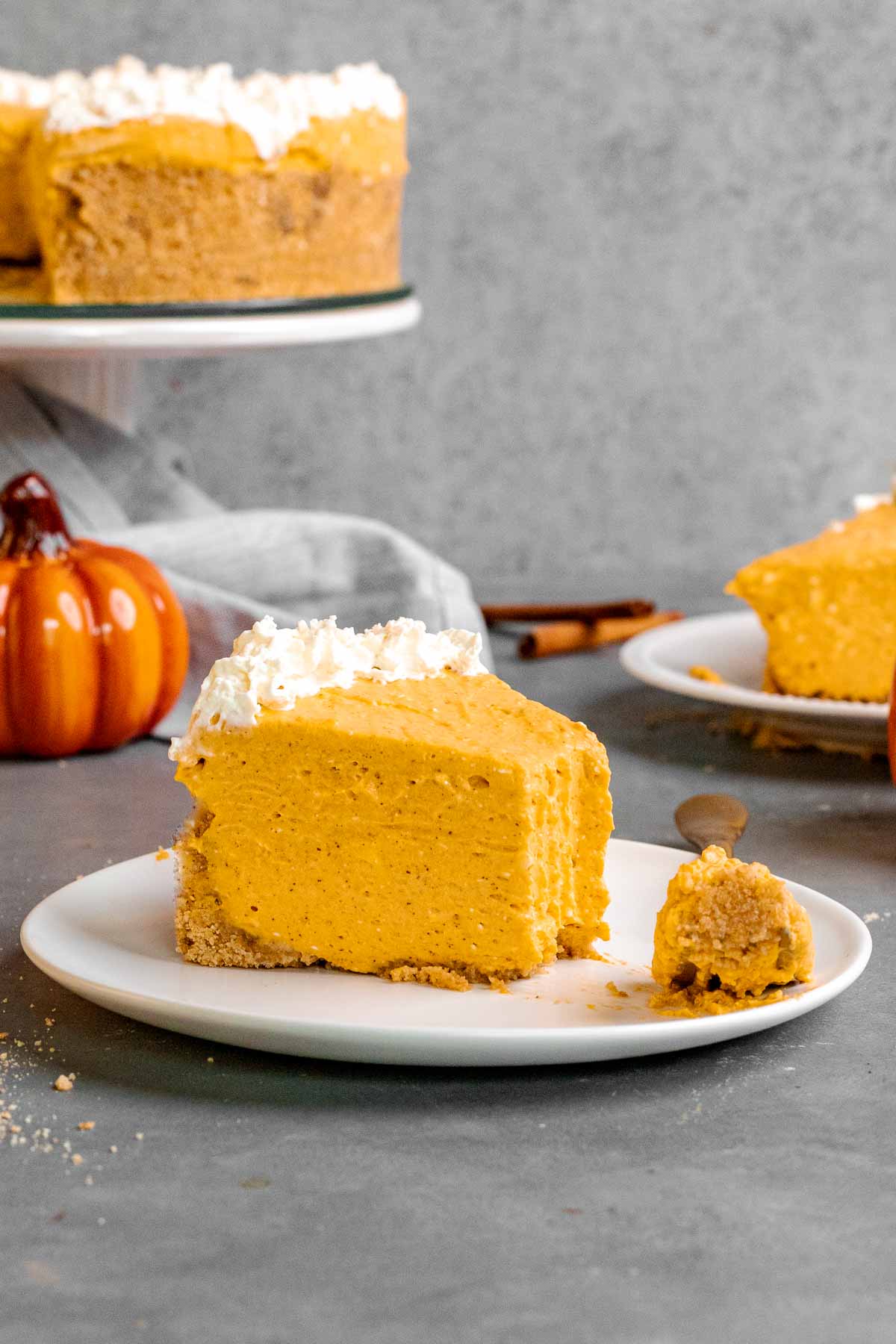 NO-BAKE YEARBOARD CAKE CAKE
This recipe is an absolute dream to enjoy in the fall months. That Pumpkin spice adds to each bite cozy, soothing seasonal flavors. But it's a more unique way to enjoy your favorite pumpkin flavors than a typical dessert, e.g. Pumpkin pie.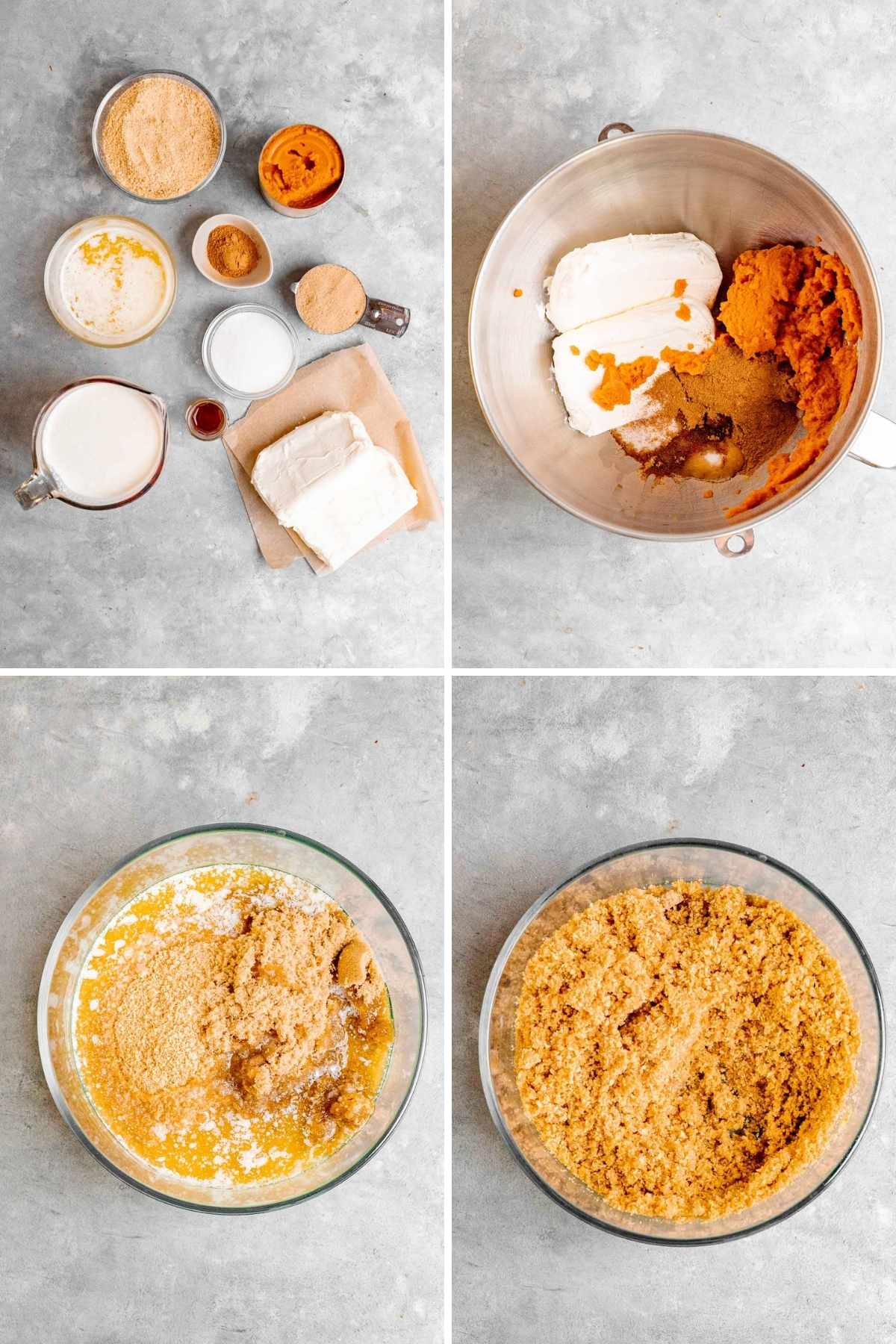 It's a great way to change a traditional holiday dessert by mixing the pumpkin flavor with a creamy cheesecake. Because cheesecakes feel less holiday specific than pumpkin pie, this is also the perfect way to use leftover holiday ingredients. If you have canned pumpkin puree after the holidays are over, but you do not want to make another pumpkin pie, try this incredible cheesecake recipe.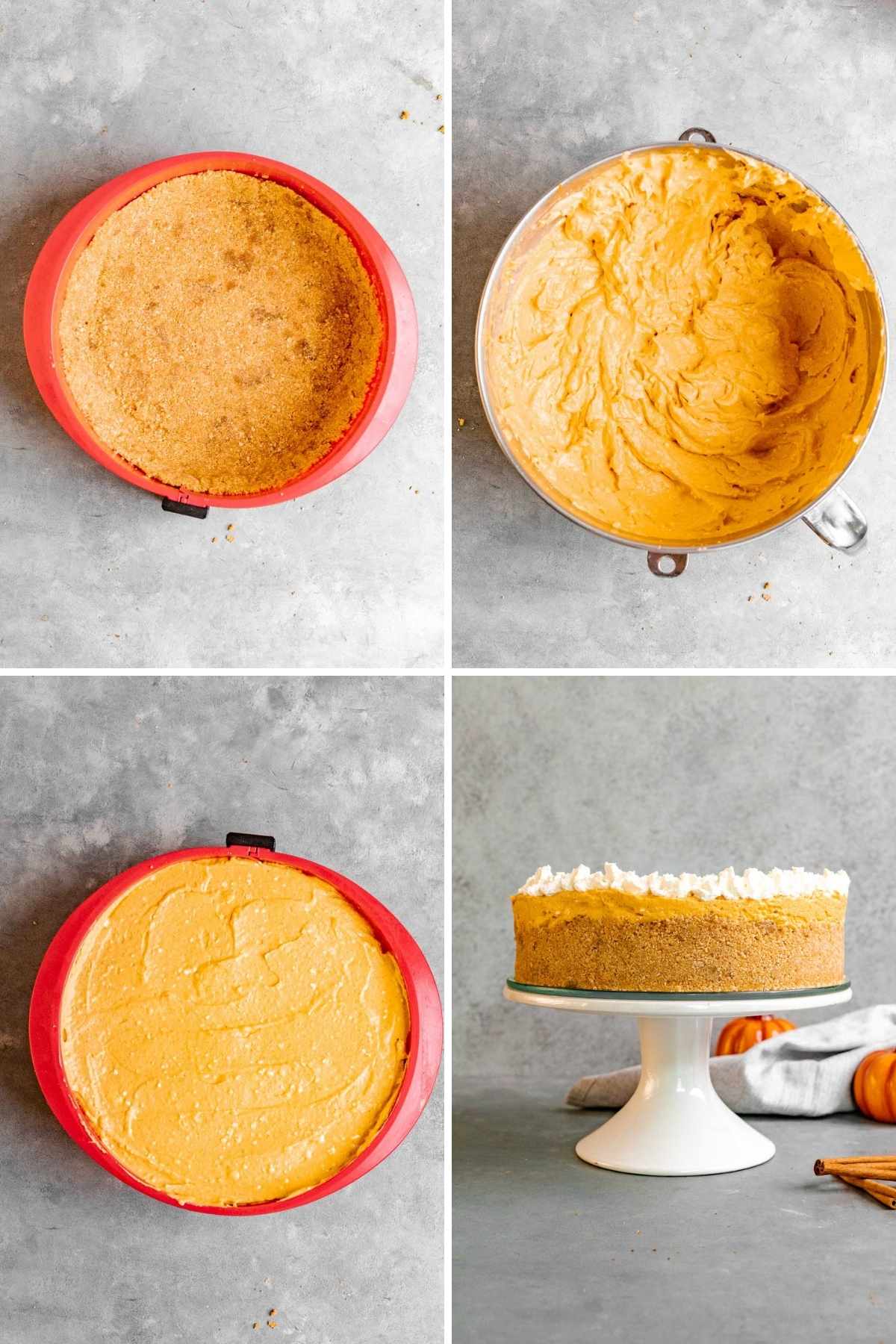 Unlike most cheesecakes, you do not need to bake this one. Instead, store it in the refrigerator overnight. It's perfect because the crust and cream cheese filling are easy to assemble in 10 minutes. Then you just put the dish in the fridge.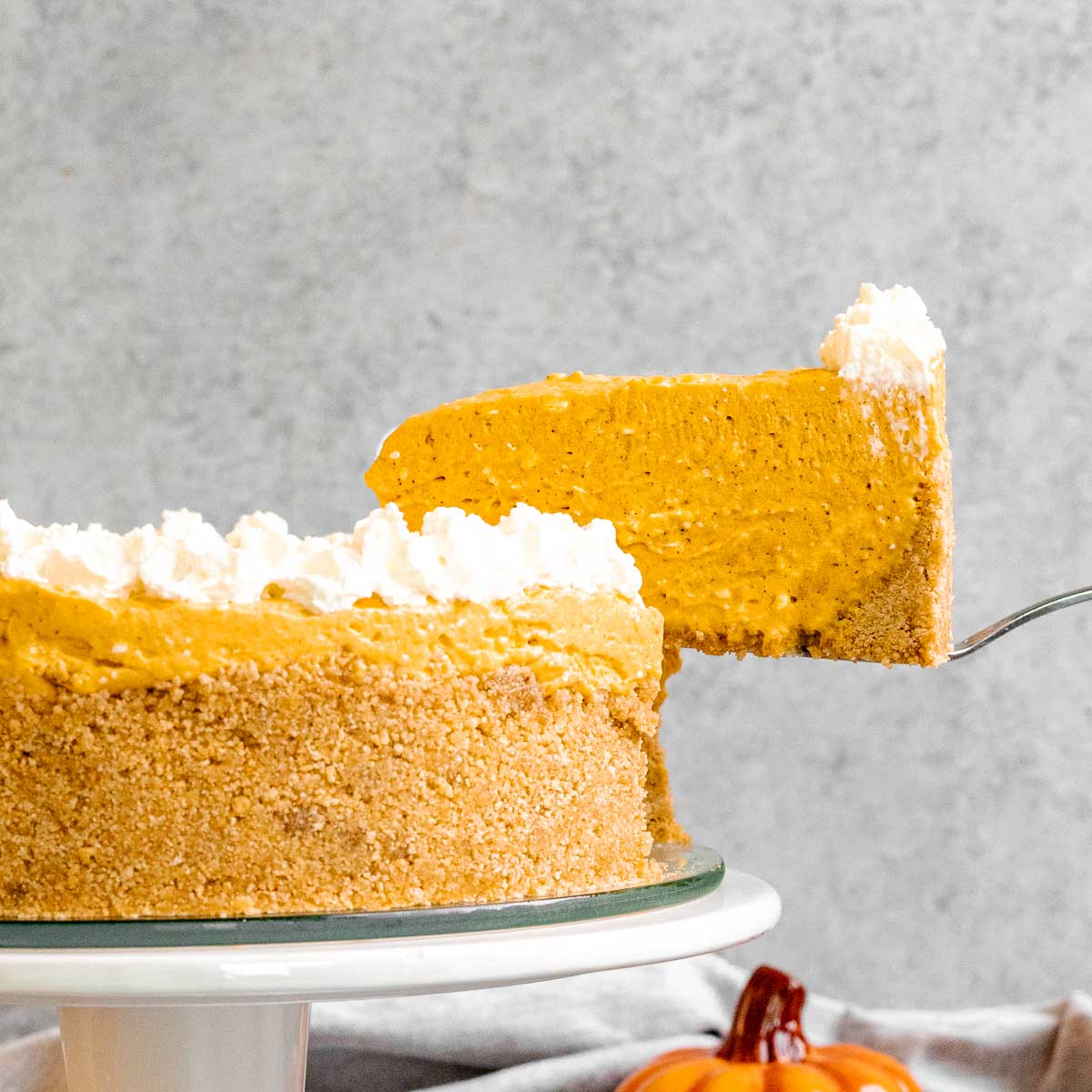 You do not have to hang out to take it out of the oven, so you do not even have to think about the recipe again before it is time for serving. Add Whipped cream or any other favorite cheesecake toppings and enjoy!
MORE Pumpkin Desserts
TIPS FOR MAKING NO-BAKE PUMPKIN ROSE CAKE
Graham Cracker Crust: Add graham crackers to your food processor, and pulse them into crumbs. Alternatively, you can put the biscuits in a large Ziploc bag and crack them manually with a rolling pin. Once broken into small crumbs, they are mixed in a large bowl with brown sugar and melted butter. Once the ingredients are mixed, use your hands to press the crust down to the bottom of the springform pan. Push it into an even layer with 1 inch of crust up the sides.
Cheesecake filling: Add softened cream cheese, pumpkin puree, white sugar, vanilla extract and pumpkin spice to your stand mixer. Beat on medium-high speed until the cream cheese mixture is well mixed. This will take 1-2 minutes. Set the mixer on low speed and add the heavy cream. Wait until the cream is mixed, then raise the speed to high until stiff peaks form. This step takes 3-4 minutes.
Set: Pour the pumpkin mixture into the prepared crust, and spread the top evenly. Cover the dish and place it in the fridge overnight. It is important to give it enough time to set, otherwise the cake will become liquid.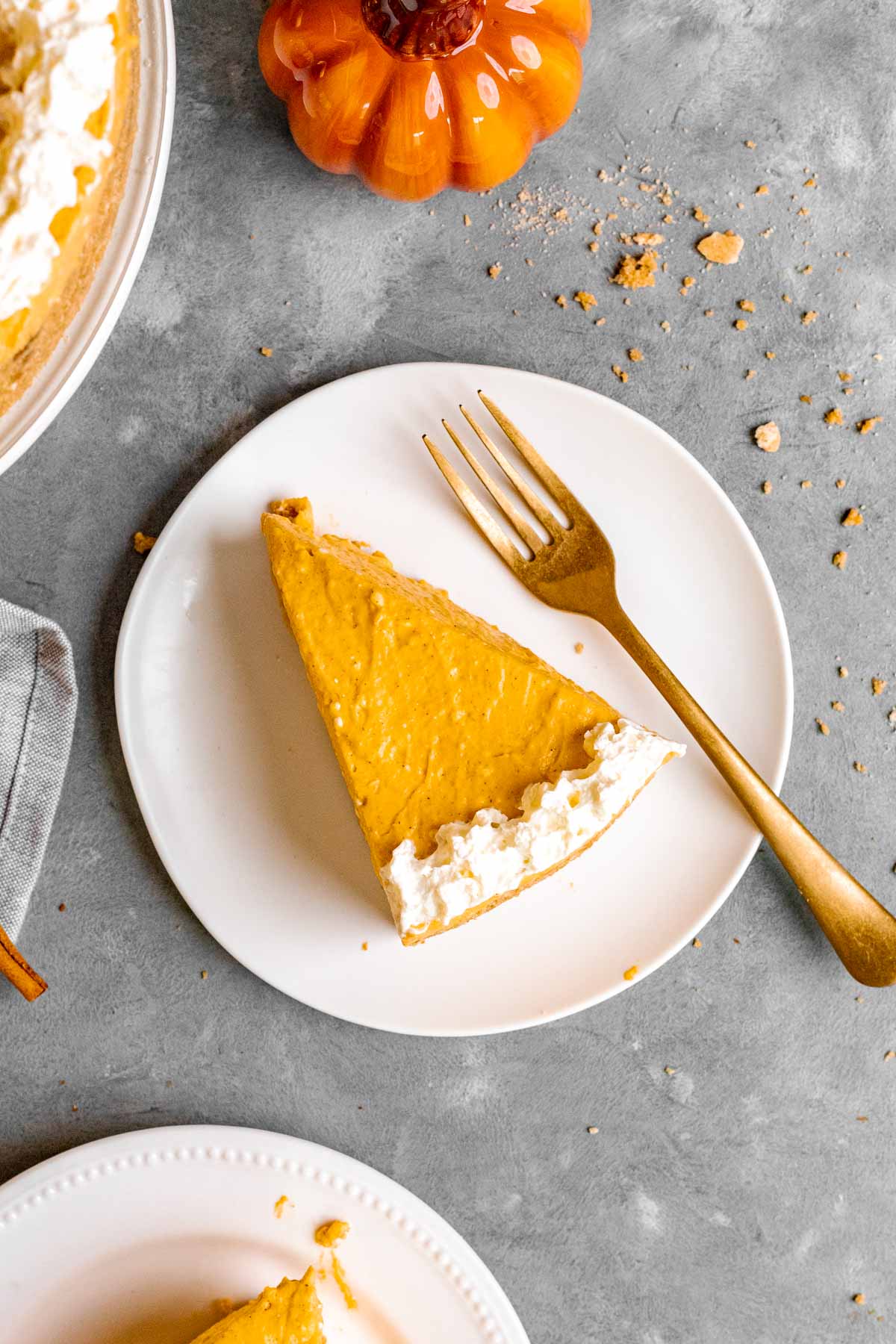 Create a free account for

Save recipes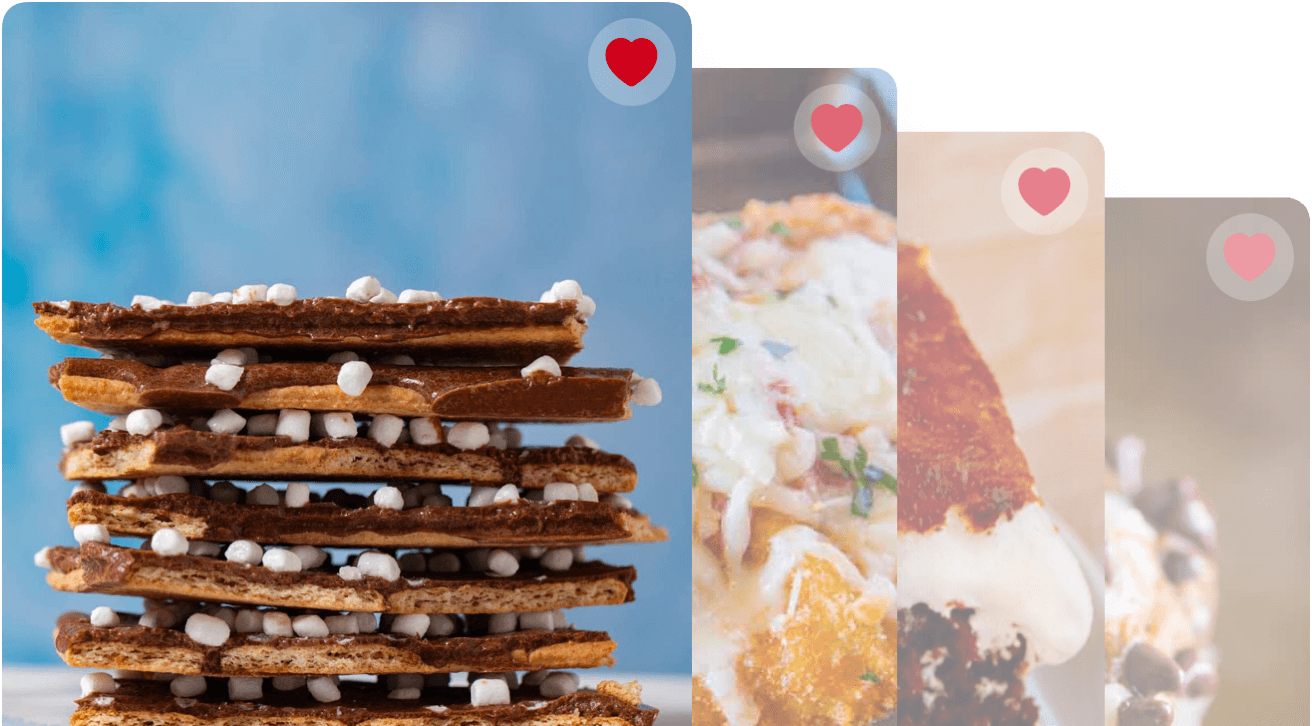 VARIATIONS ON NO-BAKE PUMPKIN ROSE CAKE
Mixtures: There are plenty of mixes you can try adding to the pumpkin and cream cheese filling. For a little crunch, try mixing pecans, walnuts, almonds or cashews in. You can also add some roasted pumpkin seeds. For more sweetness, mix in chocolate chips, white chocolate chips or toffee pieces.
Toppings: Before serving, you can add a sprinkle of cinnamon, icing sugar or cocoa powder to decorate the cake. You can also add a whipped topping el Fudge Sauce for each slice.
Maple Pumpkin Cheesecake: To add a warm and delicious maple flavor to Pumpkin Cheesecake, use maple syrup to replace half of the sugar in the recipe. You can also mix maple chips in the cream cheese filling.
Crust: Instead of a cracker crust, you can use vanilla wafers or vanilla oreos to make the crumbs for the crust.
MORE CHEESECAKES RECIPES
HOW TO STORE NO-BAKE PUMPKIN ROSE CAKE
Serve: Once the recipe has settled in the refrigerator, do not leave cheesecakes at room temperature for more than 2 hours.
Store: You can cover Pumpkin Cheesecake in plastic wrap for storage in the refrigerator for up to 5 days.
Freeze: If sealed in the freezer, the cheesecake can stay good for up to 6 months. Let it thaw in the fridge overnight, then let it stand at room temperature for a few hours before serving.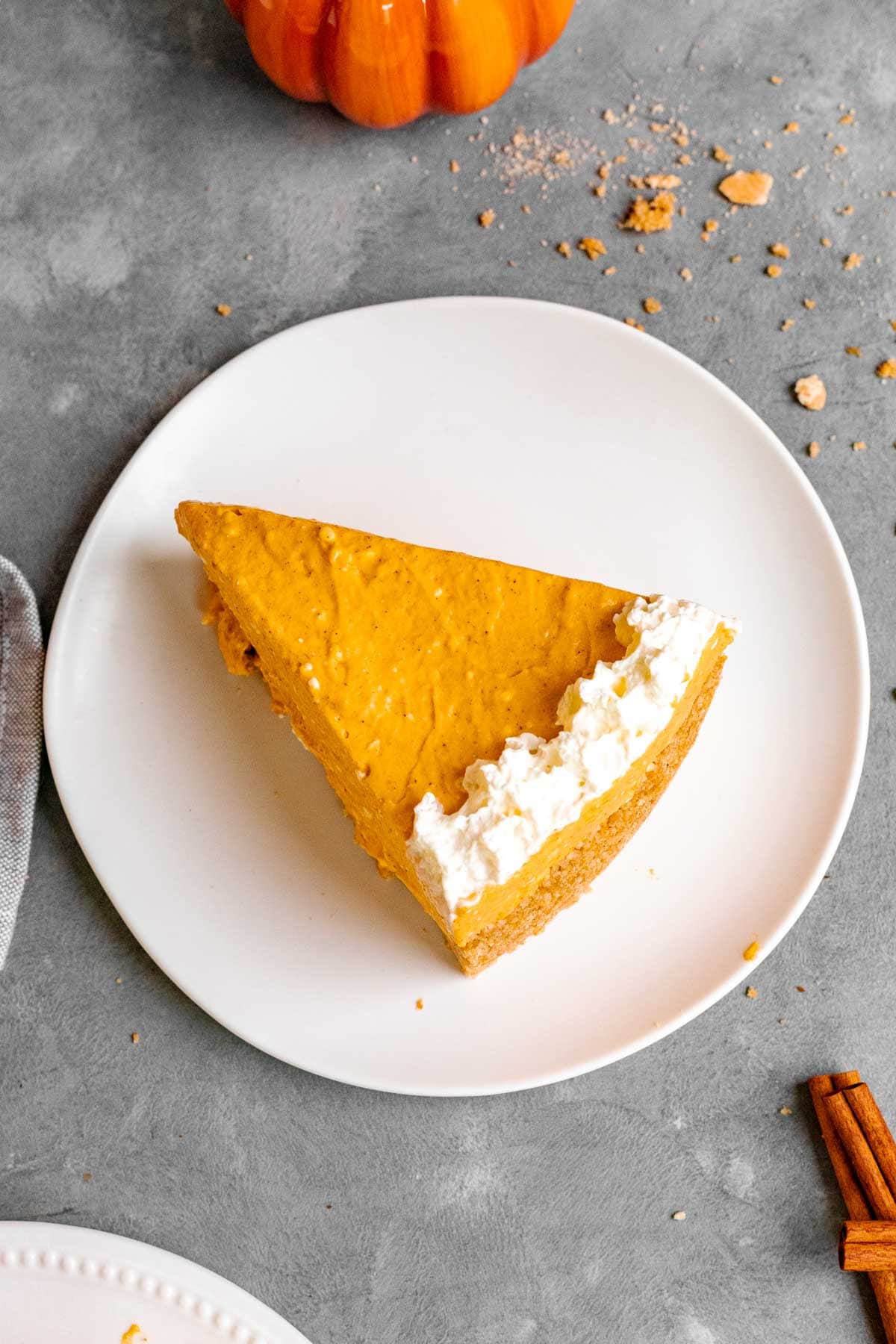 Graham Cracker Crust:
Mix the graham cracker crumbs, brown sugar and melted butter and press into the bottom of the springform pan and 1 inch up the sides.
Cheesecake:
Add cream cheese, pumpkin puree, sugar, vanilla extract and pumpkin spice to your stand mixer and whisk until well blended, approx. 1-2 minutes.

Add heavy cream at low speed and when incorporated raise to high speed and whisk until stiff peaks form, approx. 3-4 minutes.

Pour the mixture over the crust and distribute evenly.

Refrigerate, covered, overnight.
Calories: 379kcal | Carbohydrates: 26g | Protein: 5g | Fat: 29g | Saturated Fat: 18g | Polyunsaturated fat: 1g | Monounsaturated fat: 8g | Trans fat: 1g | Cholesterol: 95mg | Sodium: 332mg | Potassium: 197mg | Fiber: 1g | Sugar: 17g | Vitamin A: 4206IU | Vitamin C: 1mg | Calcium: 105mg | Iron: 1mg