No-Bake Cherry Cheesecake is silky, rich and creamy with a sweet cherry pie filling and buttery graham cracker crust.
If you like our classic New York-style cheesecake, then you are sure to love this cheesecake without baking with sweet cherry flavors. That's the perfect thing Dessert recipe ready for refrigerator in just 10 minutes.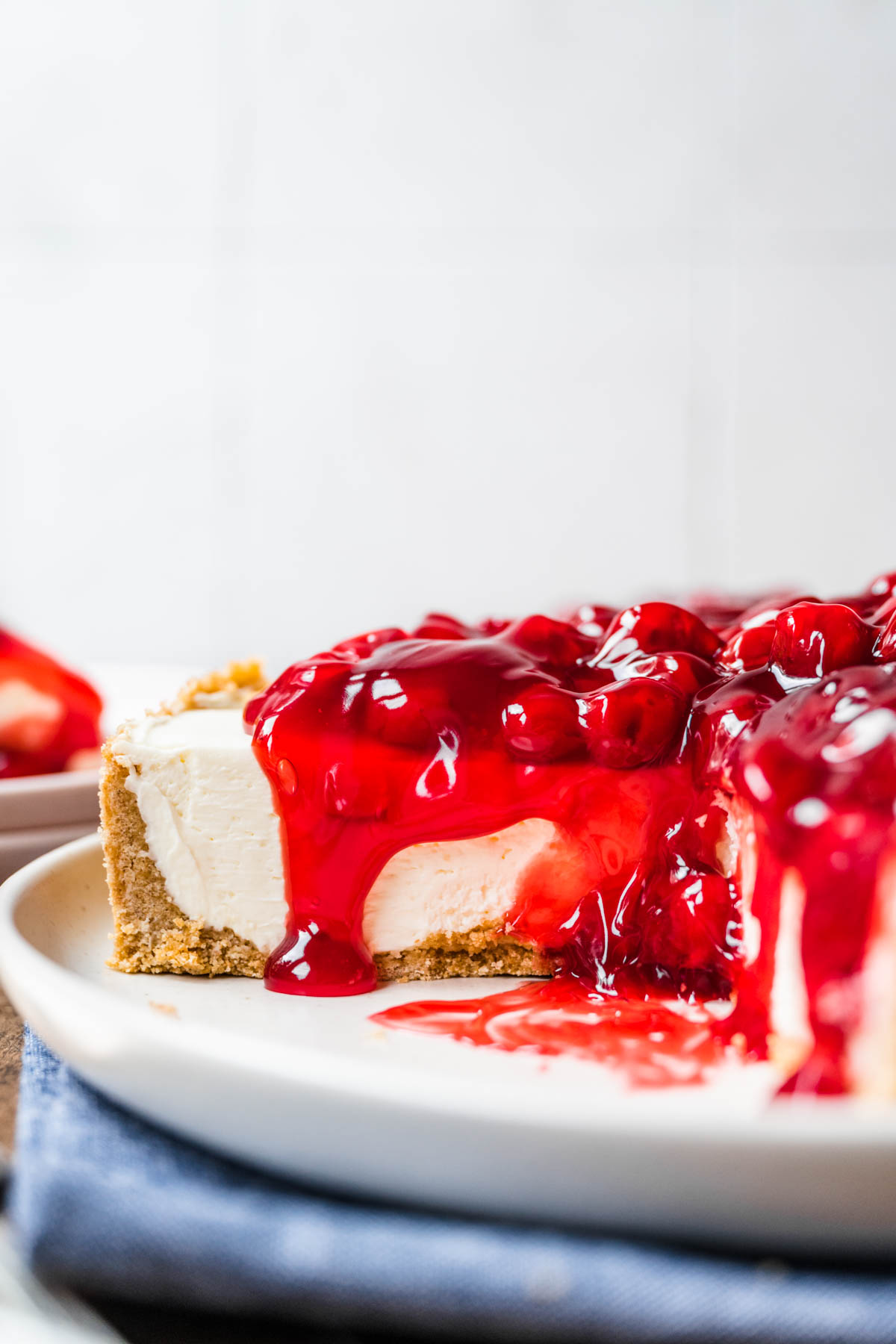 NO-BAKE CHERRY CHEESECAKE
This Cherry Cheesecake recipe is amazingly easy to make. Just follow a few simple instructions to make the crispy cheesecake crust and easy filling of cream cheese. Until that point in the recipe, it pretty much looks like a classic cheesecake. The main difference is that ingredients like eggs and milk are omitted so you do not have to bake this cheesecake. All you have to do is let it cool in the fridge.
It is important to start the No-Bake Cherry Cheesecake Recipe well in advance. Convenient time is easy to follow and quick, but if you do not give it enough time to rest in the fridge, the unbaked cheesecake will not set. But if you just set aside a few minutes the night before, you can get the crust and cream cheese mixture ready to use. Then just top it with the cherries before serving the perfect homemade cherry cheesecake.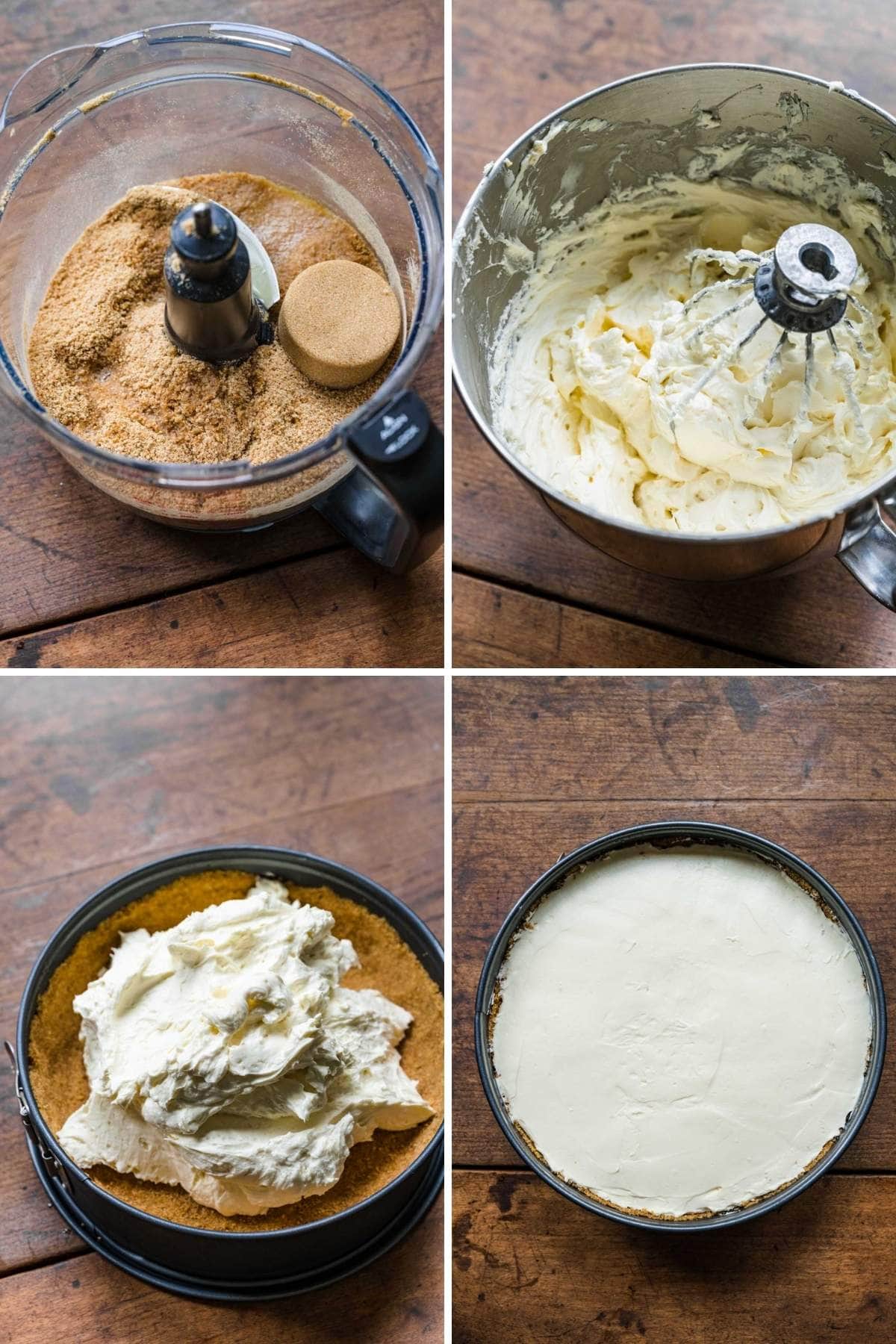 Along with the cherries, you can add other toppings to your cheesecake slices when you serve them. Cheesecake always tastes good with a blob Whipped cream and drip off Hot Fudge Sauce. So if you want an even more decadent treat, feel free to add layers to the sweet toppings.
More cheesecake recipes
HOW TO MAKE YOUR OWN CHERRY PIE FILLING
The cherry pie filling is easy to find canned in the store for a quick and delicious topping. But if you have fresh cherries and a few other simple ingredients, you can also make your own in minutes. Here's how you do it:
Start by adding 5-6 cups of pitted cherries, ½ cup of water, 2 tablespoons lemon juice, 2/3 cup granulated sugar and 4 tablespoons cornstarch in a saucepan.
Turn the heat to medium and bring the mixture to a boil.
Turn the heat to low and continue to simmer for 10 minutes, stirring the mixture often.
Remove the filling from the stove and allow to cool.
If the cheesecake is ready to go, pour the cherry layer directly over the cheesecake.
If the cheesecake mixture still needs time in the refrigerator, pour the filling into a medium bowl to cover and store in the refrigerator.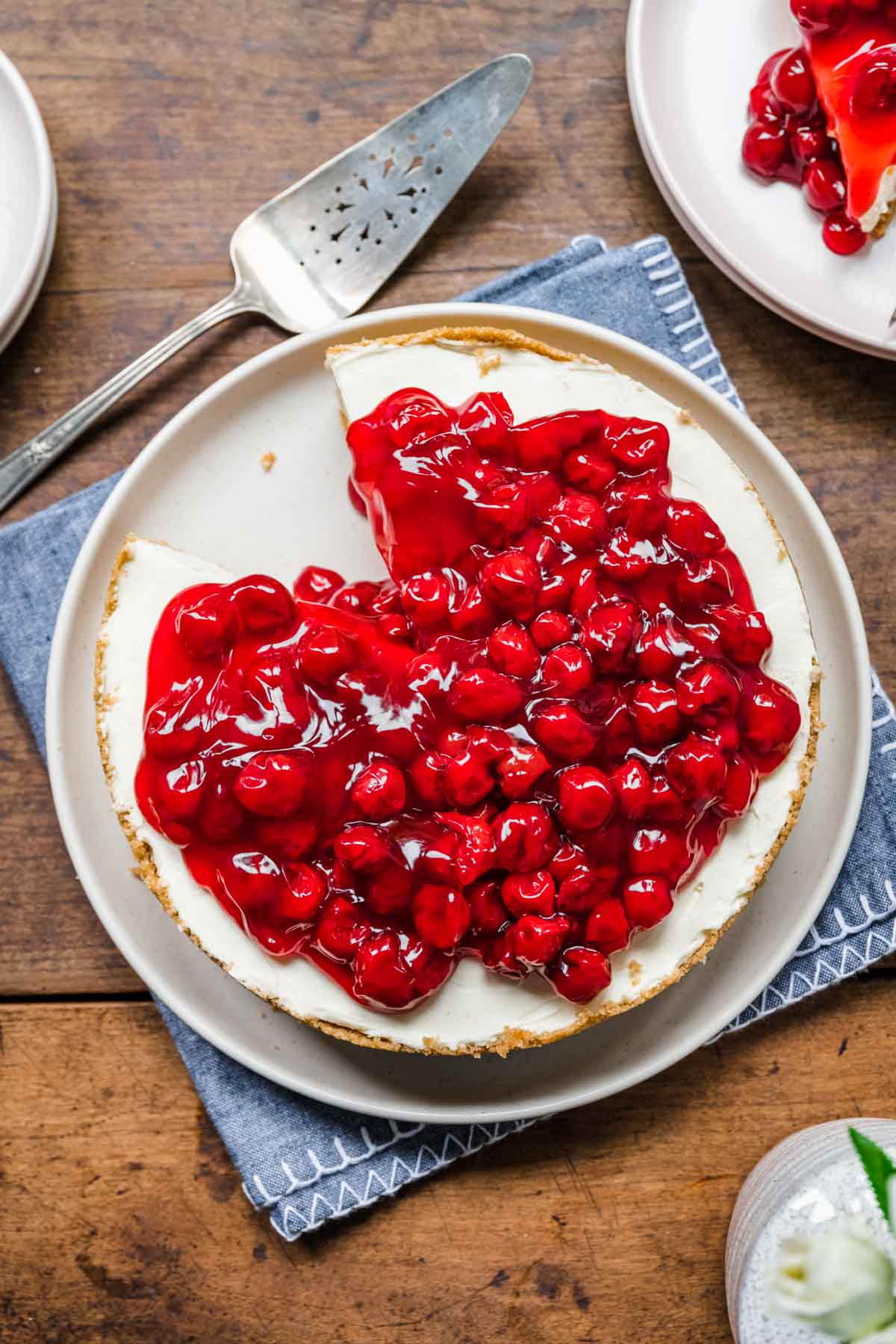 Create another free account

Save recipes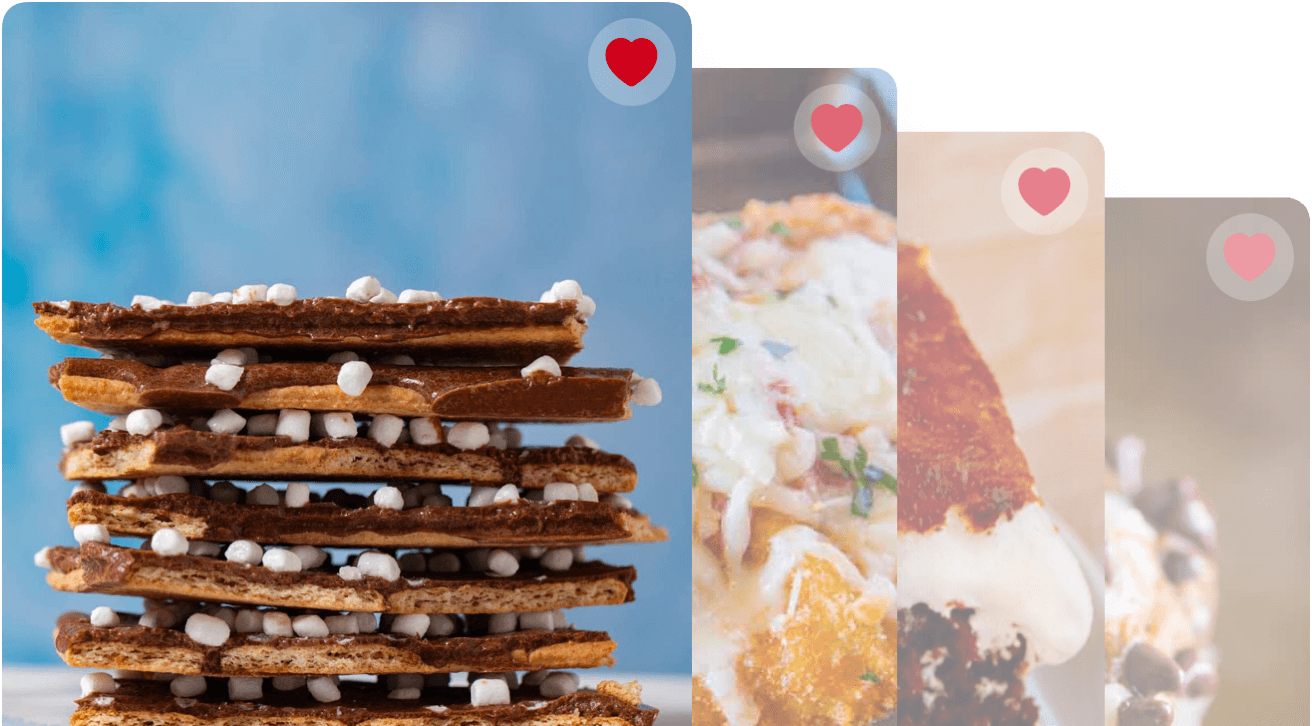 VARIATIONS ON NO-BAKE CHERRY CHEESECAKE
Fruits: You can make the same basic dish with different kinds of fruit fillings. Make a No-Bake Strawberry Cheesecake, Blueberry Cheesecake or Raspberry Cheesecake by simply using the various pie fillings. Apart from berries, you can make other fruits like peach or apples.
Aromas: If you want to experiment with the taste of your cake, try mixing in vanilla extract, cinnamon, rum extract or lemon juice.
Nuts: For a little crunch in the creamy cheesecake, add pecans, almonds or walnuts to the filling.
Crust: Instead of making the crust with biscuits, you can replace the graham biscuits with cookies. Use Oreo cookies, Vanilla wafers, gingersnaps or Biscoff cookies in the cheesecake mix. Except for the kind of crumbs you use, the rest of the recipe will remain the same as it does for the cracker mix.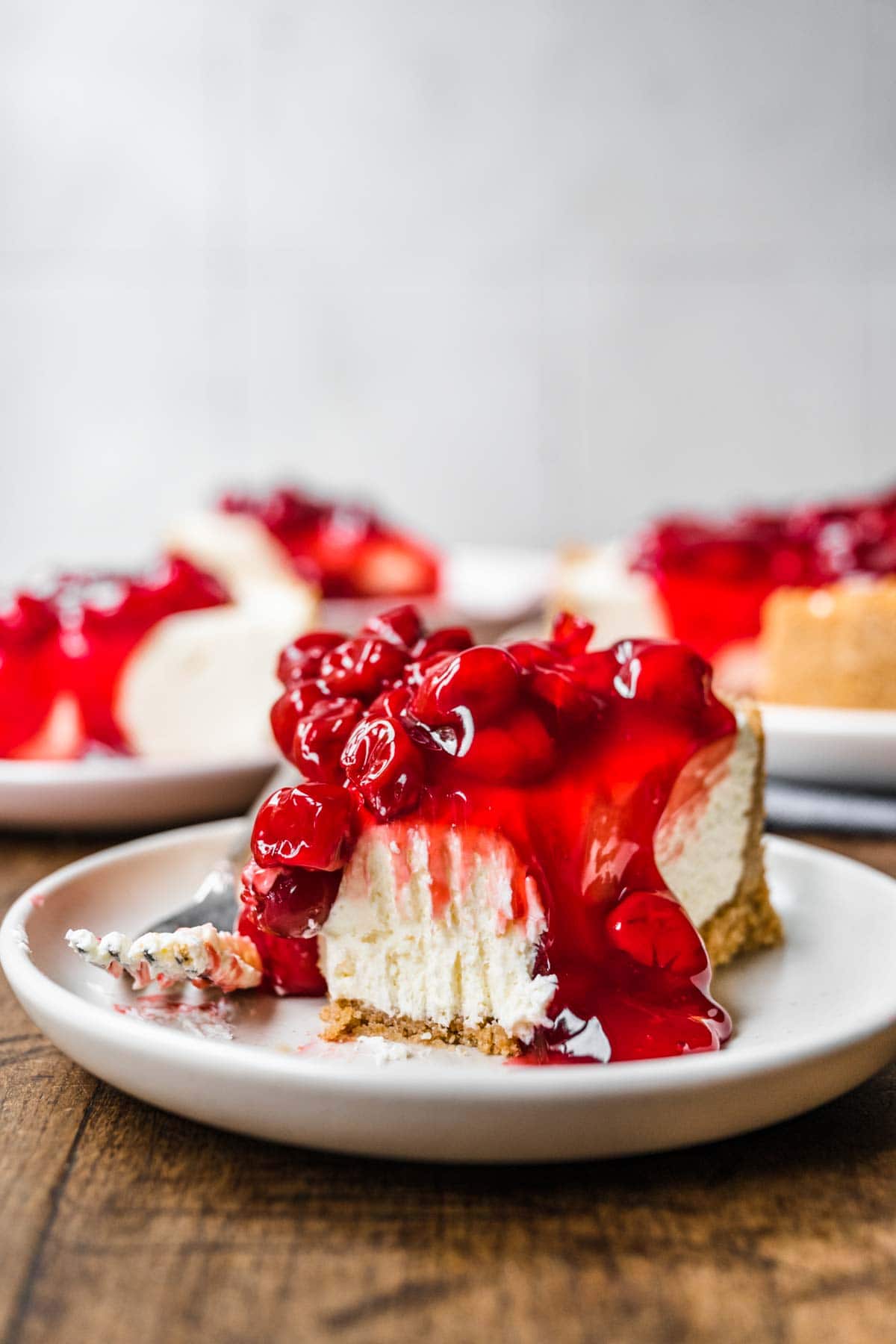 More cherry recipes
HOW TO STORE NO-BAKE CHERRY CHEESECAKE
Serve: Be sure to give this recipe at least 8 hours in the refrigerator to become completely stiff before serving. Do not leave Cherry Cheesecake at room temperature for more than 2 hours.
Store: You can cover any leftover dessert or put it in an airtight container for storage in the fridge for 1 week.
Freeze: The dish can also stay well in the freezer for up to 6 months. Let it thaw in the fridge before serving.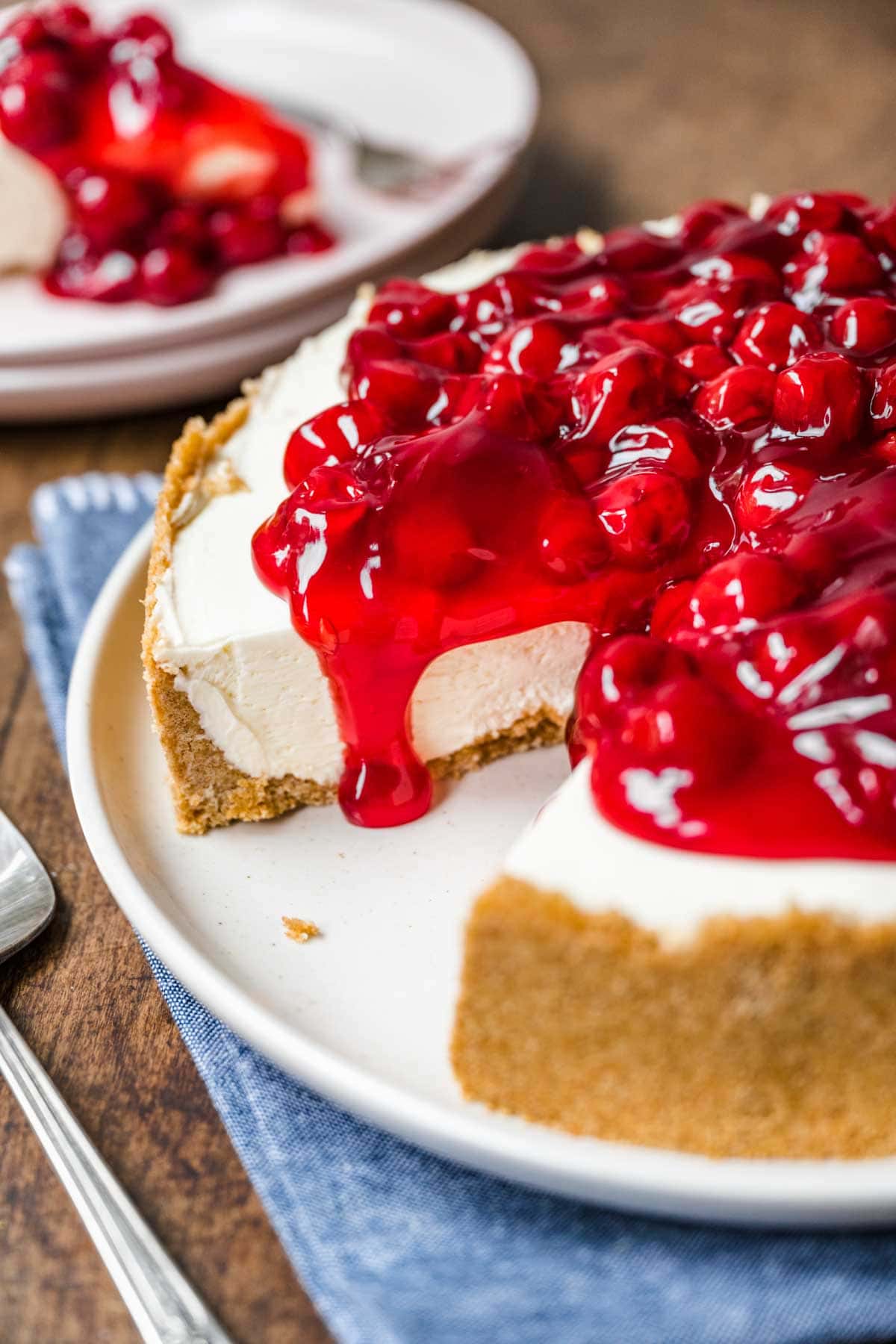 Graham Cracker Crust:

Mix the graham stool crumbs, brown sugar and melted butter and press into the bottom of the springform pan and 1 inch up the sides.

Add heavy cream to your stand mixer on low speed, raise it to a higher and higher speed and whisk until stiff peaks form, approx. 3-4 minutes.

Remove the whipped cream from the bowl and set aside.

Add your mixer to cream cheese, sugar, almond extract and lemon juice and beat until light and fluffy, approx. 2 minutes.

At the lowest speed, add whipped cream until it is evenly combined.

Spoon the mixture over the crust, spreading evenly.

Refrigerate, covered, overnight. The longer it is stored in the refrigerator, the firmer it becomes.

Pour Cherry Filling over cheesecake just before serving.
Calories: 428kcal | Carbohydrates: 38g | Protein: 5g | Fat: 29g | Saturated Fat: 18g | Trans fat: 1g | Cholesterol: 95mg | Sodium: 340mg | Potassium: 206mg | Fiber: 1g | Sugar: 16g | Vitamin A: 1130IU | Vitamin C: 2mg | Calcium: 103mg | Iron: 1mg